This recipe is based almost entirely on the great Kenji's SeriousEats Minestrone recipe. I made a few alterations to speed up and simplify the process. One way I did this was to use Kenji's Veggie Stock recipe1. Another was to remove the bacon/pancetta at the start, but add ground turkey and liquid smoke.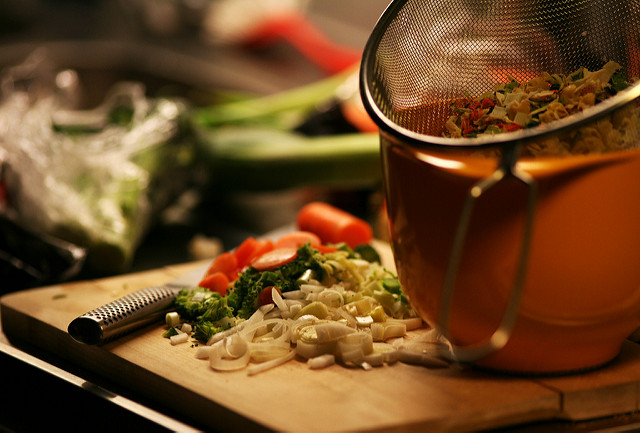 If you don't feel like making your own stock, you can always use store bought. You'll need to deal with the usual issue of too much salt, but you'll also save a lot of time. The other (far better) option is use Kenji's technique of creating a stock while cooking dried beans. You won't get the ease of canned beans, but you can't have everything.
I'll repeat Kenji's Minestrone motto here: "This recipe is more of a blueprint for soup than a set of rules". You should feel free to add and remove ingredients at will. For instance, I use cannellini beans and fresh orechiette pasta. That's because I love both, and I can get fresh orechiette at a nearby store. Use black beans, drop the pasta entirely, add some farro. Go wild!
Some might quibble with my use of liquid smoke. The me of yesteryear certainly did. This was mainly because I thought of liquid smoke as some kind of bizarre manufactured ingredient, probably a combination of petroleum and the scent gland of some poor, obscure mammal. But no! Liquid smoke is exactly that: wood smoke captured in a bottle. Now I frequently use it in recipes where I might have used bacon or fatback. For instance, when I make black eyed peas, I toss in salt, olive oil, and liquid smoke instead of a big hunk of fatty, salty, smoked pork. Or if I feel like splurging I go ahead and use the pork :)
Ingredients
Salt
Pepper
Olive Oil
1 onion, diced
1 carrot, diced
1 bell pepper diced (or use a poblano if you can find one!)
2-3 celery stalks
1 leek, only the white part, diced (but save the greens for the stock recipe!)
Pound of diced turkey (grab one package at the store - no need to measure)
Liquid smoke
5-6 cloves of garlic (or use all the cloves you can get from a head of garlic if you like garlic as much as I do)
Can of diced tomatoes
8 cups of vegetable stock (see above) - if you have less than 8 cups, you can supplement with water
2-3 Yukon gold potatoes (3 if small, 2 if bigger), cut into pieces (½ inch - 1 inch, your call)
3-6 sprigs of fresh green herbs like parsley, rosemary, thyme, etc (optional)
1 bay leaf (optional)
Parmesan rind (optional)
Can of cannellini beans, drained
1 package frozen green beans, ends trimmed and cut into 1 inch pieces
1 cup small pasta
Steps
Over medium heat in a Dutch over, stockpot, or whatever big round cooking vessel you have, heat some olive oil and then cook the onion, carrot, celery, bell pepper, and leek with some salt until all the vegetables are heated through (about five minutes). If the pot dries out or the vegetables start to stick add a little more olive oil.
Add the ground turkey, a little more salt, and some pepper. Continue cooking until the turkey is cooked and the vegetables are completely soft. You're not trying to brown anything. This will probably be around 10 minutes.
Add the garlic, and stir until heated - around 30 seconds.
Add the tomatoes, stir, and continue to cook until most of their liquid has been cooked off. To quote Kenji: "The sound should change from a sputtering simmering sound to a sharper crackle as vegetables start to fry"
Add the stock, herbs, bay leaf, Parmesan rind, drained beans, and potatoes. Simmer for 10 minutes.
Add the green beans and simmer for another 10 minutes.
At this point, all you need to do is finish the soup. OR you could simmer the another 2-3 hours if you want a heartier soup. When you're ready, add the pasta and simmer until done (5 minutes for fresh, small pasta or as long as 15 minutes for large dried macaroni).
Remove the bay leaf, herb sprigs, and Parmesan rind (if you used any of those).
Sserve! You can put some fresh diced herbs on top if you like.
References
Links used (or that you might want to check out):
it's the only stock I make at home. But be warned, it includes kombu and dried mushrooms which can get pricey. ↩
"Chopped Minestrone Vegetables" image from kaktuslampan and is an unmodified work distributed under the Creative Commons Attribution-Share Alike 2.0 Generic license. ↩